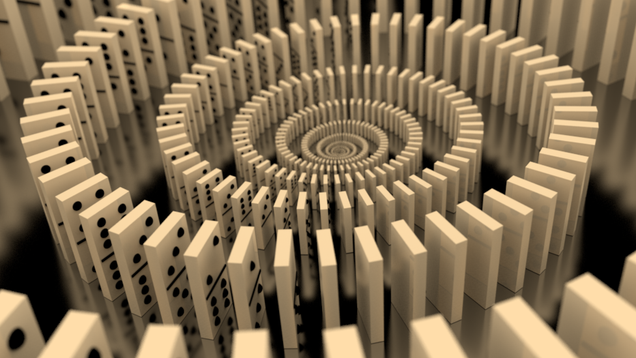 I think we're all savvy about this concept. You line up the dominos, get them just how you want them, tip the one at the end and let it fall. It all comes down in the pattern you designed. A mesmerizing showcase of your talented ingenuity, a spectacle for the onlookers to enjoy. I'd like to say the same thing goes for writing, but I'd only be half right.
I rewrote a chapter in the upcoming PLIGHT book and the chapters that come afterwards keep referencing the old chapter. Palm to forehead smack. But here's the thing; there's an opportunity to make something that was merely "ok" as the chapters wind down to the very end of this segment of the entire story, to something much more hair-raising and nail-biting. I dare say, the domino effect of rewriting one crucial chapter can set it up for all the other chapters that follow to have a richness, depth, and maturity to them that was previously absent, or at least left wanting.
In our own lives I'd like to think we get these new chances to change the days and weeks, months and years ahead of us, if we are so fortunate to live that long. In one day think about how many times you write and rewrite what's in your mind, your conscience, your own heart. How often do you take a step back and place the domino just so, with hopes that how things fall land not just in your favor, but in the favor of those around you whom you love and enjoy.
There's something else about this whole 'domino' effect and how one slight (or mighty) change can really effect the outcome of events…it points to something that's always been there. It's our connection to one another, to life, to events and circumstances. We're all lined up, even if we're slightly askew. There's a pattern somewhere in all the chaos of our falling down that we can't or don't see. And I doubt very seriously that's a "serious" pattern, or that it was intended to be interpreted as such. Just that there's a way in which we're connected. We rise, or are risen (depending on your view of things) and that we fall (or are pushed, if you can but dig that idea better) and we all come together in that mesmerizing fall.
I like the stories I write because I'm setting things up at a subconscious level just like a set of dominos. I don't always get the pieces right, meaning if I lay them just a little too far away they'll fall all right, but no connection and no interesting razzle dazzle of the play. The sight of it becomes null, boring, or worse; downright disappointing. And I don't want that for my readers. So, as close as I get to one thing, is as far away from something else as I can get. And on does the story go forward. I gotta get it just right, because flat is flat, disconnected is a bad story, and falling is fun only when you have somewhere to land that we can all agree makes sense.
I'll be in touch my friends.